DEVELOP THE ACCURATE SOLUTION TO EACH CUSTOMER NEED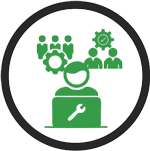 Technical and management experts: We are an interdisciplinary team of professionals with great technical and management experience in Oil & Gas industry.
Oil industry specialists:  Our team have experience in production processes, treatment, and oil transport, as well as the handle of water associated with production.
R+D: We have capacity to develop profitable solutions by applying new technologies to production and treatment of oil and associated water. Our solutions incorporate last generation surfactants and nanocomposites.
Great environmental awareness:  Professionals experienced in mitigation of  environmental effects caused by oil.